Luke GJ Potter and Paul Kane went on a three day Bike Packing Trip around the Sunny South East in late September. To the backdrop of the washed out Road World Championships, Luke recounts their adventures as he journeys to new places to see an old friend.
My Logistics, AKA Lukegistics
I wasn't really ever going to write about this trip, but I changed my mind. In the pre-Corona Times of 2020, at the Leisure Launch night, Andrew Potts talked about "Product Development" for a Bike Packing Resource List. I said "It's something I'm interested in Andrew, my good man."
Maybe one day it will be called the "Potts and Potter Packing Product". ...Actually, I've just trademarked it, get a Design Company on the phone to make us a Media Kit.
Spreadsheets, AKA Wales Curtailed
Paul Kane and I had initially planned to go to Wales to cycle from Fishguard to Holyhead in two days, but the massive storms that affected the Road World Championships in Yorkshire affected Wales too. Ireland was not affected by this deluge. In our preparation we made some Spreadsheets on Logistics, Weather, Accommodation & Transport:
I am planning on doing the Wales trip in the post-Corona Times of 2020, if you're interested keep an eye out.
Paul had the suggestion of riding the Barrow Way, from Kildare to Carlow. Some sections were unpaved, and I sold my CX bike a few weeks prior.
Photos
The album is Bike Pack the Sunny South East.
BikePacking Kit
Bikepacking became a big thing in 2018 and 2019. RidesOfJapan got big on YouTube, GCN were covering it (for advertising $$, Discovery Channel back at the top of Cycling), and Ultra Distance Cycling Races were becoming a thing. The Ultra Distance Events were happening long before the dawn of modern technology. Now with "the Social Medias", it's actually booming. You can follow your favourite riders, or you can get a daily digest on the dotwatcher.cc website.
I already had a Handlebar Bag. Everyone complimented me on how great it was (and still is). There were no detractors. Then Rapha released their first in-house developed BikePacking Bags (they had many collaborations with other brands before). James Hayden was testing the bags in the TransContinental Race that he won. I opted for a big saddle bag. I chose it as it came in two parts, the harness and the detachable dry bag. The main downside of the product was that it didn't have an elasticated webbing for storage. You'll notice in the pictures of Paul, that he stashes his jacked on this webbing.
For my next trip, I would definitely get a Frame Bag, just for extra storage
Day 1: Dublin to Meeting of the Waters
Friday September 27th. 85km w/903m Elevation.
Strava: #BikePackSunnySouthEast Day 1: Dublin to Meeting of the Waters.
I was, and I presume most other Orwell members were, watching Lara Gillespie in the Junior Women's Road Race. It was a really weird race, no attacks just a bunch riding towards the finish, there were some crashes. Lara rode super smart with her positioning, always near the front. The other two Irish riders Lucy O'Donnell and Maeve Gallagher got caught up in crashes. Maeve did very well racing back to the front group for the final, with a rather nasty looking gash on her arm. Unfortunately the whole front group crashed on the final corner.
I booked a half day off work, went home for lunch and got ready to meet Paul on the N11 (the section before it turns into a defacto motorway). Paul was still bandaged up from his crash in the CycloCross race the Sunday prior.
On my way to meet Paul, the bike took a lot to get used to. It was my first ride with the setup. It was very light at the front, and hard to ride out of the saddle. My rear pack was too heavy and it was a bit loose. I stopped to tighten it up and it eventually got easier to ride. I adjusted to counter steering the excessive sway, so with the pack tighter, I was much more relaxed.
We stopped in Greystones for a Coffee. The sun was shining pretty nicely. When we were riding again, I had nowhere to stow my Hydra Rain Jacket, so I just cooked in it. From Greystones, it was the standard Kilcoole, Newcastle, Rathnew route. We also went into Wicklow town. They had a BMX Pump Track beside the playground. So Paul did some BikePacking Pump Track riding. Here's a video of Paul riding the Pump Track.
Paul regaled me with stories of his youth along the coast of Wicklow, Hidden Beaches and Cans. He chewed down on his stash of Bakewell Tarts, as you do.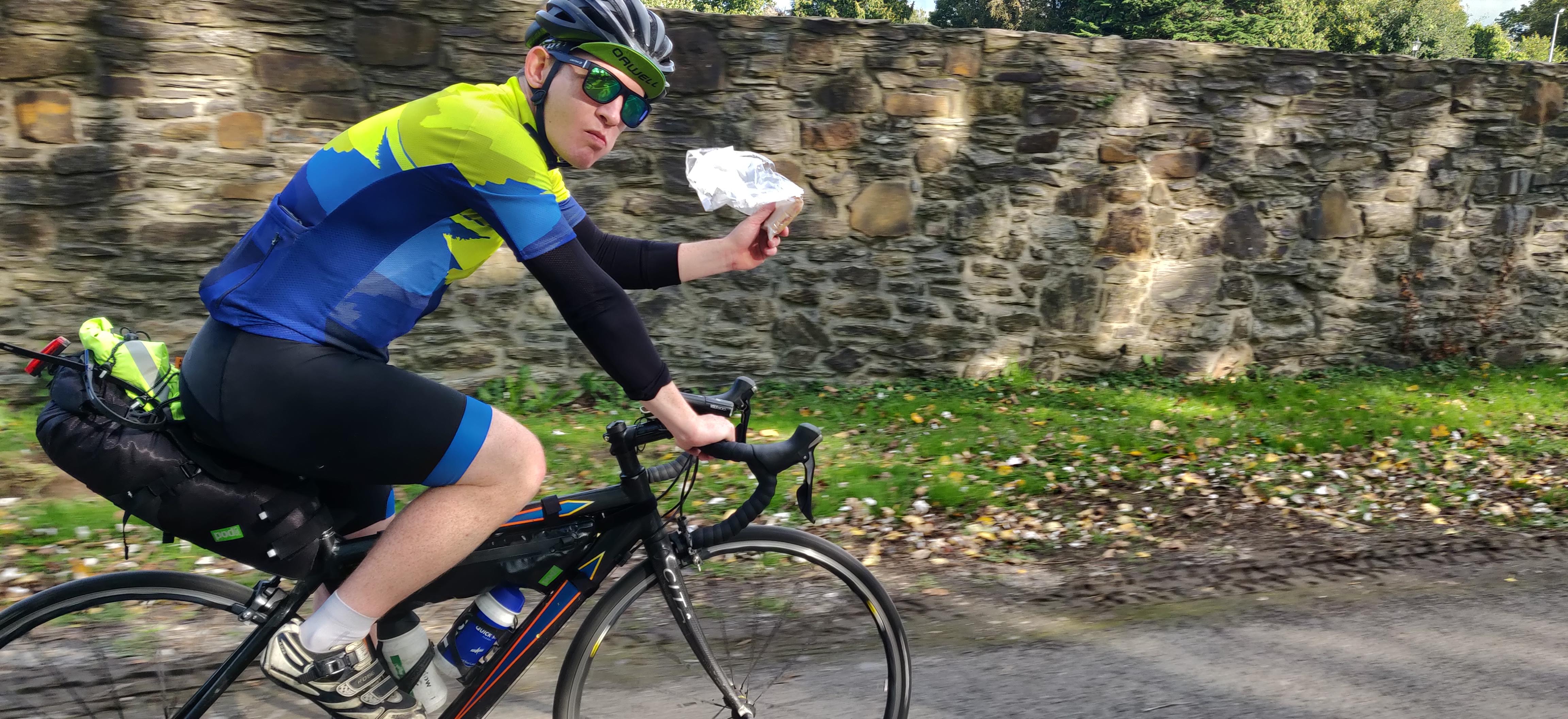 Unfortunately, we had a run in with a driver just before Brittas Bay. He came speeding by us in his 03 red Ford Fiesta, in second gear and beeping. He tried to Punishment Brake Paul. When I pulled up beside his door, he turned in on me. He was a mid-forties rough-looking individual. We exchanged pleasantries. I could see his female passenger was very embarrassed. He claimed that he was holding us up, because we held him up ...on an empty road. It was very clear that this guy was just a bully. He drove on again, once a car appeared coming the opposite way. Not before flicking a cigarette at me, which landed on my hand.
This was my only such interaction with a Driver in six years of bike riding. I was a bit shaken by the experience. But I was not going to let it ruin my day. The sun was shining, I was on an adventure and I had a 05 silver Opel Astra at home ...Five weeks later I would get €50 scrappage for the Astra.
The view of Brittas Bay Beach was really nice. We turned away from the coast and inland towards Redcross.
Fun Fact: Redcross, has a Latin Quarter. It's a village with six buildings.
We ate dinner at Mickey Finn's Pub. They let us store our bikes in the lockup at the back. This is also home of West Wicklow Brewing. I can only drink those craft beers after I've had four traditional pints. So I asked the bartender for a lighter tasting option. He gave me a tasting glass, and loudly proclaimed to the rest of the bar that "This is the lowest Alcohol Percentage, and the Fruitest Taste." Thanks Bro. It was a super tasty beer. Paul had Chicken Wings and a Burger and I had Fried Cheese and Veggie Pasta.
It was dusk when we finished Dinner. We equipped our lights and reflective vests. This gave our Avatars +2 Night Riding Ability. It was another 12km to the B&B. The first 6km was uphill on full bellies. At the top, I captured this excellent photo of the cloudy sunset. Clouds that were going to Yorkshire to rain on the Parade. The descent to our B&B was a bit sketchy, as it was dark, heavy bikes and I was on carbon clinchers.
The B&B was the Ashton House, it was really nice. There was a pub about 300m away and we watched some Airtricity League match. Eugène Dillon texted me to ask if I saw the "banter" in the U23 Men's Road Race? I had not, so I looked it up. Local lad, Tom Pidcock (aka Ruthless, Toothless Tom after losing a tooth in a race ending crash at the Tour de l'Avenir) finished fourth on the road. The Winner was disqualified for drafting a Team Car, and the local lad got promoted to a Bronze medal. Funny how rules are applied so consistently.
Day 2: Meeting of the Waters to Thomastown
Saturday September 28th. 103km w/1,221m Elevation.
Strava: #BikePackSunnySouthEast Day 2: Meeting of the Waters to Thomastown.
It was my first night in a B&B. I had no idea how the breakfast procedure worked. I got a big bowl of Porridge for breakfast and some lovely toast. Porridge is an individual thing, so when it's made with Cow's Milk, it tastes mank to me. I'm an Almond Milk kinda guy, and also not a Baby Cow.
We saddled up and hit the road. Just as we left the B&B, it started to drizzle. Praise the Hydra. The rain didn't last too long, so I was back to cooking in the Hydra. Today's main highlight was Mount Leinster. We were 50km away from it's foot. We saw a sign for the town of Coolboy, so we had to take a photo. Paul would have his sign the following day, probably exactly 24 hours later.
In Carnew, we had our brunch in a supermarket with a Coffee Machine and a scone rack. Whereas yesterday, we were in Paul's childhood memories of hidden beaches and cans. Today, we were in mine. There was a Cattle Mart beside the Supermarket. I told Paul about the times my Dad took us to the Mart and we had no idea what was going on. Then Dad bought us Dairy Milk bars. The cattle mart was in Athenry, so maybe I met a young Ronan Grimes in 1996/7. Across the road from the Supermarket, there were the remnants of a Country Dance festival. The Square bales, used for seating, were being loaded into a cattle trailer.
The town of Bunclody was next on our route. It was a real picturesque village, with a stream running down the middle of the main street, and lots of flowers. You don't get much time to enjoy it, because that stream is running down hill for a reason. We were about to start our Mount Leinster Challenge.
My Garmin Edge 830 switched over to Climb Pro mode, and showed us the remaining distance and grades on the climb, 11.5km and 400m of climbing. That yields an average gradient of 3%, but there are some downhills and a plateaux on the climb. It took me 54 minutes to climb it. We rode mostly together, and after the final plateaux Paul dropped me. He wanted to check out the bikes that the Enduro riders were using. Mount Leinster provides some excellent views, and we had a good day to see those views. I've always wanted to ride the Mount Leinster sportive. I can cross that off my list now.
We descended down to the town of Borris. The descent off Mount Leinster is super precarious. Not just because we had the heavy bikes and poor braking and handling. We also had to contend with loose sheep, cattle grids (they were fun though) and downhill roads that lead into crossroads. We had Lunch in M. O'Shea's Pub in Borris. I asked Paul, as my geo-politics was a bit weak, "Why does this town want to leave the EU? Borris is very strange for wanting to do so." Paul didn't get the joke. The pub had lots of old photos in a display case. Including one of Bella from Fair City with a bunch of women.
Our route had us going directly to Thomastown, but this involved a long drag through Graigeunamanagh. There was rain promised. So Paul opted to reroute us on the flatter route through Goresbridge. Along the way we passed a Pig factory, the smell of the gas that they use to kill the pigs was rotten. The rain started and Paul put the hammer down. We were 10km from Thomastown. I was suffering badly with Paul's pace, but I had no choice but to hold the wheel. I was not about to sit up like some Fred Sportive Rider.
We arrived at the Abbey House B&B 3km outside Thomastown. The other accomodation option in Thomastown is The Mount Juliet Estate, which is $$$. We got ready for dinner. We planned to meet my old housemate, local lad, and previously of the Orwell parish, Paul Forristal. He has a longer intro than Daenerys Targaryen. Paul regaled us with his tales of being a Tandem Pilot on the Irish ParaOlympics in Canada World Championships and the C1 in Yorkshire.
In Yorkshire, Annemiek van Vleuten rode away from the field to Win the Women's Road Race World Championship. Everyone loves AVV. She even tried out a CycloCross race later in the season. Elsewhere Stephen O'Shea was making his way to Yorkshire in the Orwell Car.
Day 3: Thomastown to Dublin
Sunday September 29th. 127km w/879m Elevation
Strava: #BikePackSunnySouthEast Day 3: Thomastown to Dublinstown, via Paultown.
I once again put yummy toast and not-so-yummy Cow's Milk Porridge into my face hole. Paul had the Fry Up, likely containing the Pigs "processed" locally in the factory we passed yesterday. The hostess of the B&B had a lovely dog, but I didn't get to rub him and make friends.
In Yorkshire, the Men's World Road Race Championship was starting. More importantly than that, the Great Dublin Bike Ride was getting underway.
We took photos of the Abbey, the church, and then set about our way. The start of the ride was mostly retracing the roads towards Goresbridge. Paul Forristal texted me to say that he would rather head out later in the day, and not ride with us.
Paul got to take his photo at a sign. With only one "Paul" in this trip, we renamed "Paulstown" to "Paultown". We came across a car that was beached in a roadside ditch, and it was half in and half out. Kinda like the end of the Michael Caine "Italian Job".
The road to Carlow was really wide, and had a Bike Lane. This was fantastic infrastructure. We passed through Leighlinbridge, which had we both CX bikes, we could've rode back to Robertstown, co. Kildare on the Barrow Way. Then jumped onto the Grand Canal Way.
Carlow was the next town. We looked around, searching for Brunch, but the town was empty, deserted of life. We decided to cut out losses and head on.
We stopped for a Can of Coke and Mars Bar in Castledermot. Pictures were already coming through on WhatsApp groups of Orwell riders with Great Dublin Bike Ride Medals. Biting them to ensure that they were not made out of Chocolate. I was biting the Mars bar to ensure it was made out of chocolate.
Most of today's ride was into a block headwind. Paul was on the front for most of it. With me in the draft. I estimate that I did double digits, percentage-wise, of the pulling. Probably 10% exactly. The parcours was also slightly uphill from Carlow to Eadestown, then downhill to Blessington and then we were on home roads. I reasoned that Paul needed the endurance training for CX racing.
I got home and turned on Eurosport Player, to catch the final 30 seconds of the Men's Road Race. Mads Pederson took the win. Mads was mostly an unknown rider prior to this win. But we love Mads now. He was recently seen taking Mammoth Pulls in the WAAIERS (Dutch for Crosswinds, pronounced "wiresh" as per Orwell Flandrien David Claes), in Paris-Nice.
Come to Wales with Luke ...please?

You can read more of Luke's Adventure on the Orwell Hashtag: #LukeGJPotter.