Coming in at under 2,000 words, this is one of Billy Parker's shorter novellas, but a worthy read nonetheless! He takes us through his multi-faceted Orwell experience of this year's Wicklow 200. Accompanying his written account is Eileen Byne's wonderful video composition. Have a read and a watch!
Wicklow 200 – 7th June 2015
Billy Parker
If Carlsberg did pelotons it would be based on the Orwell peloton in the Wicklow 200 on Sunday 7 June. It was probably the best peloton in the event. Indeed it was probably the best leisure peloton ever. On occasion there were upwards of 50 Orwell riders whizzing along the east and west Wicklow roads in a single, uniform and perfectly paired group. As one marshal was heard to remark "there must be no one left in Dundrum". 
It was not intentional. It started with a post on the forum about myself and Garett Connolly leading a medium paced group, as we did last year. This would be my 5th W200 and my 4th with Garett. We have had the best of W200s and the worst of W200s. This was to be one of the best.
There was a big response to the post with over 40 riders wishing to join our 7.30am roll out group. Many old hands but also great to see and welcome many recent members of the club doing their first W200. A fine mix of folk it must be said.
The forecast was promising from a full week before. All weather web sites were in unison in this which was both unusual and encouraging. The W200 in bad weather is just not fun and our group was about having a fun day on the bike with plenty of Eugenesque banter.
And so it came to pass that the sun shone from the moment the curtains were flung open at 5.37am on Sunday. And not too much of the habitual and challenging deliberations about clothing configurations, thank goodness. This was further simplified by the mighty Diarmuid Donnelly who would be driving the club car and supporting both the W100 and W200 groups. Diarmuid kindly offered to bring a small bag for anyone who wanted to avail of this Ryanair style service and so I packed away some spare clothing and food (no laptops or liquids). Sorted.
As usual when you approach Kilmacanogue for the W200 at what you consider to be the somewhat unseemly early hour on a Sunday of 6.45am, the continuous stream of bikes already on the road and well into their stride is always striking. These included the evergreen and effervescent Tom Weymes on his 10th W200 (seeking each time to achieve a PB which I am glad to report he did on this occasion) accompanied by a very trusty companion, Stephen Ryan. We had expected to catch these hares towards Rathdrum/Avoca but such was their power and prowess that we never caught even a glimpse. Well done lads.
The various Orwell groups were assembling from 7am. These comprised the W200 training groups under the expert tutelage of 3 legends of the Club, the indefatigable John Lanigan, a habitual trainer of the W200 groups, the indestructible Gerard Coffey and the inexhaustible Rodney Phelan (who did such a splendid job in our group last year). An early W200 training group set off just after 7am. As advertised, our group would be split it two with the faster stronger riders heading out first. Lead by Maeve Quigley and Kieran Doohan they rolled out with Eugene Dillon and around 12 others at 7.30. These were followed by the other W200 training groups. Our gang was almost 30 in number by the time we set off. Bigger than we wanted from a safety perspective but in the day that was in it, just about manageable.
Our first scheduled stop was a regroup at Hollywood garage about 50k into the event. Alarmingly, our first unscheduled stop came a bit sooner - 50 meters after the start line. Jasus. We pulled in to wait for 2 late comers to join. Thankfully, without much delay, we had another shot at the W200. This time we got past the first roundabout and were on our way. There remained at Shoreline the W100 training group led by Eileen and assisted by Colm. They were gathering and were soon to roll out. All told over 130 Orwell members on the road by 8am. I am sure that is some kind of record for the club.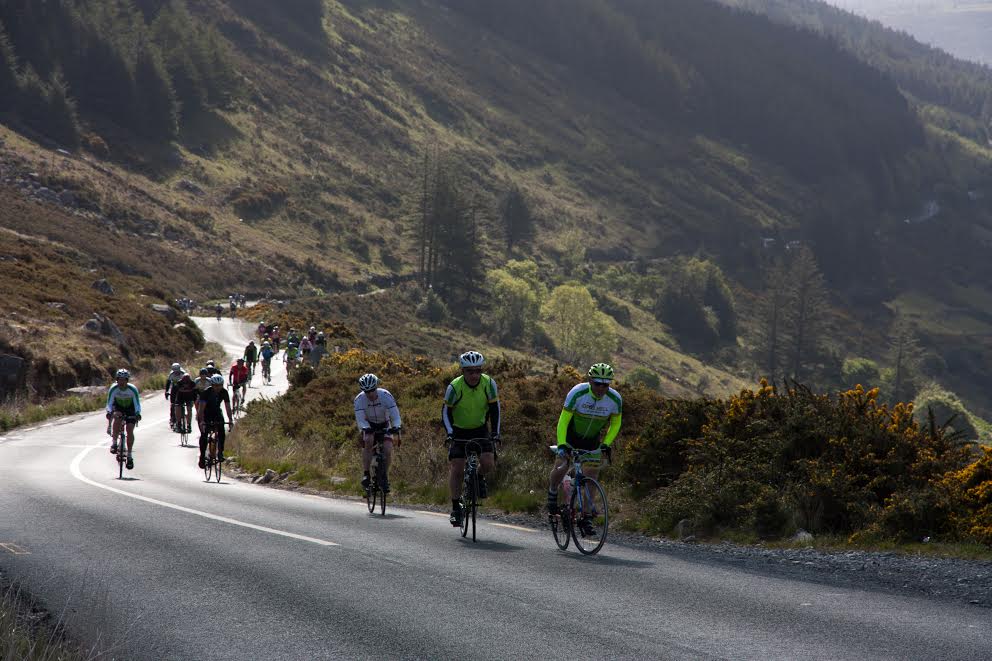 We soon caught the John L group and tucked in behind them on the N11 and they in turn had another group just ahead. A few surges in the peloton and with unfortunate timing one of these coincided with Mervyn Bent having a swig from his bottle. Down he came with a thud but being a hardy boy he bounced right back up. We slowed when we realised there was a crash (thankfully the only one of the day) and kept our group well back as we headed for the Long Hill. As planned we climbed it more or less as one unit and thus avoided an early regroup. Stopping and starting a group that size is like trying to swing an ocean liner around. It won't happen fast. So we kept the pace steady until all were on board again and off we whizzed to the bottom of the Wicklow Gap. A special mention for Peter Grealis who did trojan work up and down the group all day keeping us together and informed as to happenings at the back. Thanks Peter!
As expected we splintered as the climbers demonstrated their skills and zipped up the 6.7k, 5%, Cat 2 lump that separates east Wicklow from west Wicklow. Myself and John L waited at the top to ensure all our respective groups got to the summit safely and we then headed for Hollywood garage for the first regroup. A sea of Orwell shirts occupied the forecourt as the groups swarmed together into a chattering chewing munching milling swilling smiling happy mass of W200 contenders.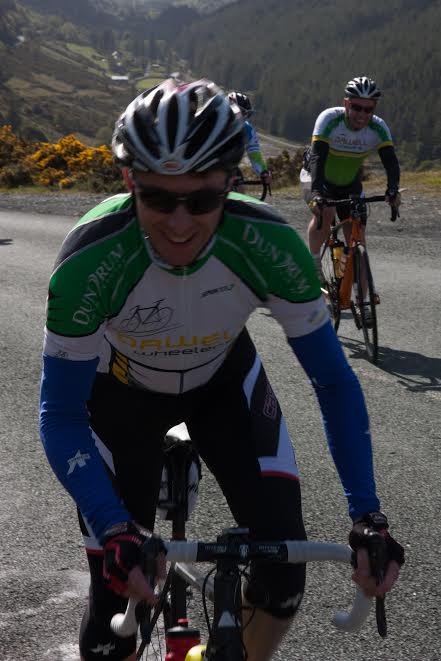 Once assembled we headed for the food stop in Baltinglass and with the inevitable merger and acquisition of the various groups, there ensued plenty of up and overs on the wide smooth and receptive roads. We breezed into the town and peeled off in Red Arrows style, some to the official food stop, some to the local Centra and most of our group into the unexpected but most welcome outdoor catering facilities of Diarmuid agus Una. Table, tea, coffee, biscuits, sweets, water, smiles, encouragement and our bags laid neatly beside the club car. A quality stop and a high standard set for next year. Great stuff and a massive thanks for the thought and effort on both their parts.
A quick round up, a head count, saddle up the ponies and we are off again. The Orwell train by now has many carriages with quite a few non Orwell passengers jumping aboard as we sweep and snake our way through the narrower roads heading for the main climbs of the day. The bare mountains ahead indicate the approaching Slieve Boy, the looming Slieve Maan and the Shay Elliott beyond. Anxious murmurings in the peloton amongst those who have yet to experience these climbs back to back and gentle encouragement from the veterans to take it easy and do them at your own pace. It was clear however that everyone in our groups were performing splendidly and would take these comfortably in their stride. And so they did and with varying degrees of exertion and perspiration they all climbed then descended and then climbed again and arrived chirpy and giddy at the top of Shay Elliott. Some I am sure were wondering what all the fuss was about. A few cups of coffee from the mobile unit (I noted 2 there this year as the coffee culture continues to sprout) and full of beans, we barrel on to Rathdrum for another food stop.
Fine weather and the Rathdrum food stop make for a happy combination. Throw in a few chairs, lots of loitering cyclists and less than 40k home and you get a relaxed and light hearted feel about the place. Nothing light hearted about the Avoca climb, which follows the fast and somewhat luxurious road from Rathdrum. Garrett explodes from the group in search of a PR on Avoca which he comfortably achieves and tops the Orwell table in this section. The rest of us mortals amble up the hill and negotiate the rather irritating and tedious sharp climbs that follow until we reach the right hand junction marking the beginning of the mainly flat run home. 
This was our planned final regroup of the day. The video I took here will hopefully give some idea of the numbers that gathered. It was like an Orwell picnic in the country. When we were all united, we numbered nearly 50 and the fun began. Led by Rob Tully and George Kelly, like a pair of fine and frisky Clydesdale horses, they pulled the Orwell wagon (and many others) all the way home averaging 32kph for that last 25k. Smokin! A new and exhilarating experience for many as we sped along the narrow winding roads in a colossal curvaceous cavalcade of cyclists expertly coupled together. An amazing sight from within the peloton, to see so many Orwell tops merged into one supersized jersey. 
Shoreline welcomed us with applause as we swooped through the last roundabout. 7 hours 40 minutes bike time and average speed of 26kph. A fraction faster than promoted, mainly as a result of the last 25k. 
A fantastic achievement for those members completing their first W200 and W100, whether in our group, in the various training groups, in any other group or on your own. It was our privilege to help you get around and hopefully make the day an enjoyable and memorable one. Thanks to those in the groups who helped, assisted, encouraged and shared their experience with others. The Club can be proud of its members on this day, behaving impeccably as they did in huge numbers spread right across the event and demonstrating how it can and should be done. I can think of no better words to sum it up than those of Tom Blennerhassett in his wonderful piece on his recent Rás exploits:
"I hope that there are riders in the club who maybe see this and use it to take a step towards their own ambitions, whether that's a Rás, the Rás na mBan, a Marmotte or the Wicklow 200. We're capable of more than we dare hope, individually and together".