Mike Hanley's ramblings about race preparation and not much actual racing continue in this latest chapter after the second round of Navan Road Club's CycloCross series.
The start to the week was a little heavier than planned. "Rest day" became an epic tour of Wicklow organised by Beth and Michelle. They did a superb job taking several groups of riders on a spooky off-road trek, complete with cobwebs, mechanicals and Eddie Lynch covered in dirt. I managed to get home and collapse on the couch, only being disturbed once or twice for trick-or-treaters. Eating most of the sweets before they arrived was a cunning plan.
The weekend's race was the next round of the Navan series, a festival of cycling that is a credit to the Navan road club and the local community. I knew from round one that I'd lost a lot of the race before it had even begun; in the preparation. This time I'd be more prepared and I had Breda to help ensure that I was fighting fit for it:
Wednesday: Pizza night.
Friday: Go to see David O'Doherty in Vicar street. Have a couple of drinks. Get home late.
Saturday: A light morning cycle. Attend a wedding in Meath. Have a couple of drinks. Get home very late.
Who was I to argue with Breda? She is a very consistent rider. Her methods may be controversial but she gets results.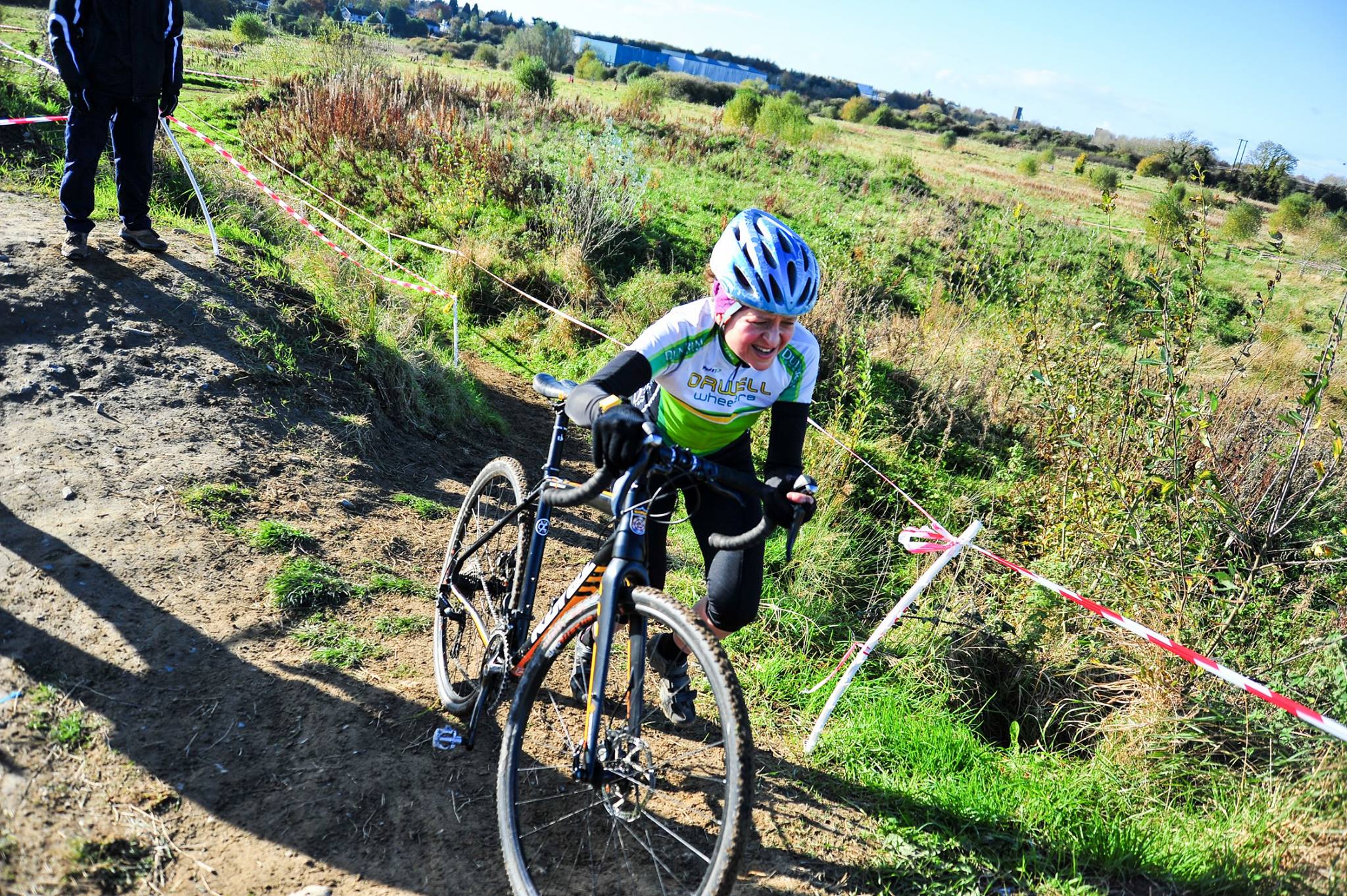 I decided to set my alarm a little later and leave all my packing and preparation until the morning. I even went for a little snooze after my alarm went off. Oh dear, not a great start and I was left rushing to get the car ready although I'm delighted to report that I didn't forget my shoes, helmet or the bike. I'm pretty sure that these are the only things you need to ride a race. Yes, you could probably even forget the skinsuit and ride. It would require clever placement of your race numbers though.
Car packed up, fueled up at the local applegreen and I was ready to hit the road. It should have been simple, but for some reason I decided to complicate issues by thinking that my slightly longer route to the M50 would in fact work out shorter. Less traffic, something something. I don't think it worked and I was now starting to panic. I wasn't at risk of missing the race, but I was going to be compromising my warm-up and pre-race faffing about. I even took the wrong exit for Navan (don't go for Navan-South, it's the next one!).
My preparation involved standing around sipping a flat white while Brian McNally asked me why I wasn't getting ready for the race. I probably should have been asking myself the same question.
It was already after 11am, 30 minutes to the start of the B race and probably 20 minutes until they allowed riders line up on the grid. The start in Navan is a really fast sprint around three-quarters of a pitch, and it was really where the selection was made in Round 1. Stay near the grid, don't mess this one up! I kept my warm-up to the inner lines of the pitch, always watching as more and more riders flocked closer and closer to the grid. It wasn't a very long or intense warm-up, which isn't a great idea. Even worse is keeping it off the course, but Luke told me it was pretty much the same from round 1 so I was happy that none of the features would upset me.
The plan was simple and clear for the race: 1 to 2 laps steady to warm up a bit more without popping, but not so slow that I ended up slipping away from the front.
I was lined up next to Paul in the second row of riders. Behind us we could see Luke andBarry, as well as debutants Brian McNally and Bob. I'm not going to call out the fact that Brian is an A1 rider in a B race, the cyclocross equivalent of Usain Bolt lining up at the local school's egg and spoon race. No, that's not for me to comment on, I'll leave it to the rest of Orwell, because we reckon that in 4 weeks Brian will probably be on the podium in the A races and that's an "I told you so!" I don't really want.
Paul was breathing down my neck, his off-road skills took him past me with ease on the wooded section, but it worked in my favour somewhat. I'm more greyhound than hare and always a little more focused and better able to pace myself when chasing someone. The course was harder than I remembered, the roots were a little more exposed and some gravel that had probably been laid with the intention of smoothing out the lumps unfortunately took away much needed grip.
As riders started to tire, I began eating into the advantage of the leaders up ahead. I was maintaining a good pace each lap, even if occasionally I was behind riders who would bizarrely freewheel into some of the steep ramps. No you fools, hit them fast and power up over the top! I started shouting a bit, not to be a jerk, but just to make sure that I wasn't getting caught out by riders unclipping half way. It was getting a bit confusing once we started lapping riders, you're never sure where you are in the race at that point. Even worse, a few A riders began warming up on the route. I thought maybe I was in the top 10, but without any riders near me (except one or two hot on my heels) I ended up dropping a bit of pace on the last lap and not emptying myself as much as I'd wanted. I still crossed the line more tired than I had in any race, but I knew I had a bit more in me, and when I learned that I came 5th, I started adding up all the lost seconds in my head and dreaming of a podium place lost. Close, but not quite on the podium yet.
Orwell Results
Navan RC Planet X CX Series Round 2: Blackwater Park
Women's Race
 Pos Name            Time
  1  TANYA OWENS     57:24  Seven Laps Biking.ie
  7  MONICA MARCONI  53:17  Six Laps
Men's B Race
 Pos Name             Time
  1  ADAM MCGARR      52:04  Eight Laps Navan RC
  4  MARCIN WROBEL    57:23
  5  MICHAEL HANLEY   57:40
 11  PAUL KANE        59:14
 19  LUKE MCMULLAN    52:51  Seven Laps
 21  BRIAN MCNALLY    52:58
 47* BARRY MOONEY     58:10
 58* BARRY O'BRIEN  1:00:21
 65* LUKE GJ POTTER   52:23  Six Laps
* Adjusted Women's Race Results removed.
Men's A Race
 Pos Name                Time
  1  DAVID CONROY        47:09  Seven Laps Scott-EuroCycles
 12  EOIN AHERN          51:52
 27  TOM BLENNERHASSETT  47:55  Six Laps
Ulster CX Series Round 5: Windmill Park, Dungannon
From UlsterCyclocross.com's report on round 5: In the Women's' Cyclo-cross race current Irish Champion Beth McCluskey (Scott Orwell Wheelers) had another fine win but behind her there was a close battle for the remaining podium places with Trudy Brown (VC Glendale) taking second and Gill Smith (Phoenix CC) third.
Women's Race
 Pos Name                Time
  1  Beth McCluskey      49:51  Five Laps
  4  Breda Horan         52:42
  5  Michelle Geoghegan  43:27  Four Laps
 11  Orla Hendron        46:27
 15  Emma Convey         50:09
Upcoming Races
Sunday 13th Nov: Fixx Series Round 3: GlenCullen Golf Club.
Youth Races: 10:00, Women's Race: 11:00, Men's B Race: 12:00, Men's A Race: 13:30
Sunday 20th Nov: Epic CX: River Dodder Park, Firhouse (near SuperValu).
Youth Races: 10:00, Women's Race: 11:00, Men's B Race: 12:00, Men's A Race: 13:00