Most days, when I put on my wedding rings, I also put on the ring that I bought with my 3rd place B-league prize voucher from the Orwell Wheelers-Appleby Jewellers league in 2018. It was the first prize I had ever won in a bike race, so it's a bit of a good luck charm for me.
When I started racing in Corkagh Park that year, I was fairly new to Ireland and had just taken up bike racing, and I was a bit concerned that I wouldn't be able to hack it racing with other women. I had done a bit of bike touring before, and I knew I loved pedalling, but being in the bunch was a big step up. With the encouragement of my clubmates and the organisers in Corkagh Park, I decided to give it a try. I got a little stronger and a little braver every week, and I watched the other racers constantly, always trying to learn how they took the corners and worked together. I admired the other women so much, so when I went up to collect my prize at the end of the league I was delighted that I had been in the mix with them at the pointy end of those races.
This August, I was back in Corkagh Park for the women's evening stage race. I had moved up to the A-league in the interim, and already had a handful of prizes under my belt from this year's Tuesday race league. The weeknight races have grown tremendously in popularity, so it was a large group of more than 30 women lined up for the A-race. We got rolling and gradually closed the gap to the A2 group. Around twenty minutes into the 35-minute race, I dropped back to have a word with Cleo Harvey. She has a very powerful kick, whereas I'm more of a diesel engine, but we work well together. The bigger group has a tricky dynamic, so I asked if she wanted to see if we could shake the bunch for the last bit of the race. We picked our moment, she gave it a massive punch to get us out of the bunch, then I moved up to pull us, along with Grainne O'Callaghan, to try to get a gap. No such luck on the night, and we were pulled back after a few laps. After a few minutes back in the bunch, I heard my least favourite sound behind me: the nasty crack of carbon fibre on the track. With no time to get the injured riders off the surface, the organisers made the wise choice to end the race early. The A-league points would come down to the two following nights.
The Pine Forest TT course was new to me, but I had studied the profile to try to devise a strategy. At only 5km, I figured it would make sense to go out aggressively at the beginning, and settle into the intensity after the first 1.5km to be around my max heart rate by the time I crossed the line at the top. I had the fastest time for a full one minute and 58 seconds, until Claire ní Reachtagáin edged me out by two seconds to take the victory. When the margins are that small, you can always think of a hundred things you might have done differently to get a few seconds here or there. Truth be told, though, if you had said to me three years ago that I would be doing similar times to Claire, I wouldn't have believed you! She's a force on the bike, both in strength and skill.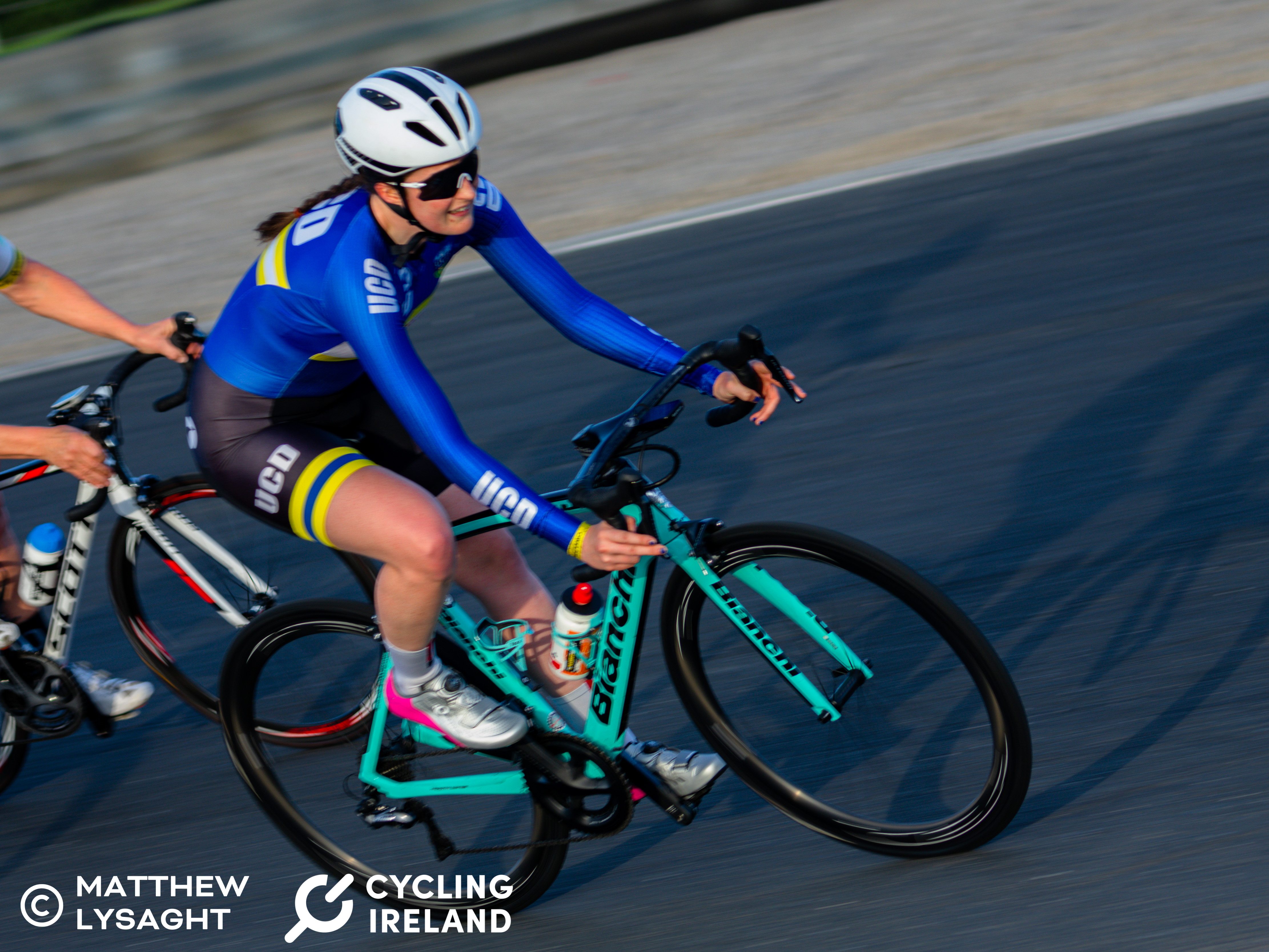 The final night in Mondello, I was fairly antsy at the start. With my TT the previous day, I knew I had a shot at the GC, but the field was stacked. If I wanted to have any chance, I would have to attack early to avoid being left behind in a sprint finish. The A1 group was the last of the four to roll out, with a total of a 90 second gap to the leading B2 group. Gradually, we made up ground, and Eva Brennan made the very savvy move to bridge to the B2 group, allowing her some time to get a gap as the groups merged and split again. Very clever. Wished I had thought of that. For another few minutes, I tried to figure out the wind direction and where I might have the best chance to get across to her.
Coming down the far side of the circuit, I was around fourth wheel and thought, 'now or never' and took a wide line to shake the bunch. I have been doing quite a bit of time trialling this year and put that fitness to use to bridge across. Eva is very strong, but even more impressively she is one of the best wheels to follow in the peloton. Her handling is smooth and safe, and she always takes an intelligent line in technical areas. I made it across to her and we worked together to stretch the gap to 45 seconds. Coming into the final kilometer, I knew that she would clean my clock if it came down to a sprint, so I would have to go early. I did the calculation with the points and knew that to guarantee the GC victory I would need to win the stage. I took a deep breath, and with around 500m to go, I gave it everything I had before the final corner. On the slight drag to the finish, I put my head down and didn't look back, expecting all the time to see Eva come up beside me. Suddenly, there was the checkered flag. It took me a moment to grasp that I had actually won! I hadn't even thought about celebrating! I put my arms up and let it sink in.
From my first races in the 2018 B-league to this wonderful win in the evening stage race A-league, the Orwell Wheelers-Appleby Jewellers league has given me a sense of belonging in bike racing. When I was first developing my skills, there was always someone there to lend a hand or give a bit of advice. Now that I am a regular in the A-league, it's a place to be bold and test myself. This year it is especially meaningful to me, as I have had to come back from a serious illness in late 2019 that saw me hospitalised with respiratory failure, unsure if I would have permanent scarring in my lungs that would prevent me from racing forever. Just the same way that stepping on the podium in 2018 showed me that I really could be in the mix, my top step this year has shown me that I'm back for good.